v0825-355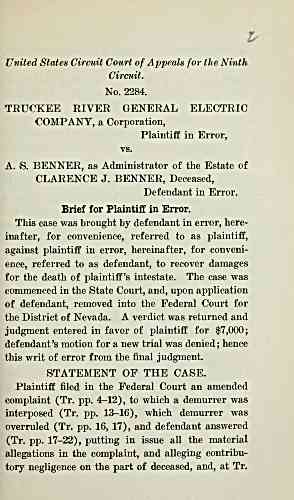 United States Circuit Court of Appeals for the Ninth
Circuit.
No. 2284.
TRUOKEE RIVER GENERAL ELECTRIC
COMPANY, a Corporation,
Plaintiff in Error,
vs.
BENNER, as Administrator of the Estate of
CLARENCE J. BENNER, Deceased,
Defendant in Error.
Brief for Plaintiff in Error.
This case was brought by defendant in error, here-
inafter, for convenience, referred to as plaintiff,
against plaintiff in error, hereinafter, for conveni-
ence, referred to as defendant, to recover damages
for the death of plaintiff's intestate. The case was
commenced in the State Court, and, upon application
of defendant, removed into the Federal Court for
the District of Nevada. A verdict was returned and
judgment entered in favor of plaintiff for $7,000;
defendant's motion for a new trial was denied; hence
this writ of error from the final judgment.
STATEMENT OP THE CASE.
Plaintiff filed in the Federal Court an amended
complaint (Tr. pp. 4-12), to which a demurrer was
interposed (Tr. pp. 13-16), which demurrer was
overruled (Tr. pp. 16, 17), and defendant answered
(Tr. pp. 17-22), putting in issue all the material
allegations in the complaint, and alleging contribu-
tory negligence on the part of deceased, and, at Tr.
---
archive.org Volume Name: govuscourtsca9briefs0825
Volume: http://archive.org/stream/govuscourtsca9briefs0825
Document Link: http://archive.org/stream/govuscourtsca9briefs0825#page/n354/mode/1up
Top Keywords (auto-generated):
deceased, death, benner, damages, pecuniary, statute, father, sister, clarence, assignment, life, brothers, requested, injury, instruction
Top Key Phrases (auto-generated):
requested instruction, pecuniary injury, deem fair, pecuniary loss, instruction appearing, charles butters, clarence benner., clarence benner, benner deceased, damages pecuniary, reasonably probable, pecuniary damages, electric wires, defend ant, virginia city
Document Status: UGLY