v0825-573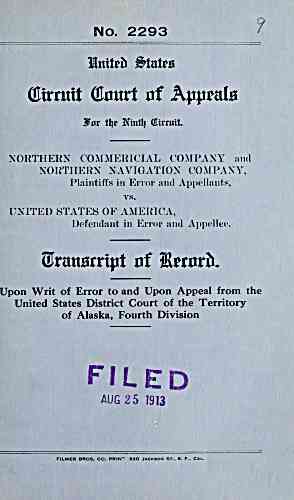 NO. 2293
llmtefc States
Oltrorit (Eowri of Appmlst
Iftnr tljc Jfttttlj (ttirruit.
?
NORTHERN COMMERICIAL COMPANY and
NORTHERN NAVIGATION COMPANY,
Plaintiffs in Error and Appellants,
vs.
UNITED STATES OF AMERICA,
Defendant in Error and Appellee.
rattfimpt of Sworb.
Upon Writ of Error to and Upon Appeal from the
United States District Court of the Territory
of Alaska, Fourth Division
FILED
AUG 25 1913
FILMER BROS. CO. PRIN~ 330 JACKSON ST., S. F., CAL.
---
archive.org Volume Name: govuscourtsca9briefs0825
Volume: http://archive.org/stream/govuscourtsca9briefs0825
Document Link: http://archive.org/stream/govuscourtsca9briefs0825#page/n572/mode/1up
Top Keywords (auto-generated):
northern, alaska, license, tonnage, commercial, referee, district, territory, tax, net, steamer, mcgowan, operated, 1911, june
Top Key Phrases (auto-generated):
northern commercial, net tonnage, northern navigation, license tax, alaska fourth, yukon river, northern navi, navi gation, yukon territory, steamer sarah, fairbanks alaska, 4th div., tonnage tax, alaska 4th, mcgowan clark
Document Status: UGLY