v0825-707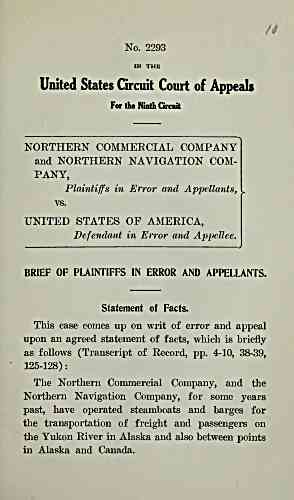 N
No. 2293
IN THE
United States Circuit Court of Appeal
For the Ninth Circuit
NORTHERN COMMERCIAL COMPANY
and NORTHERN NAVIGATION COM-
PANY,
Plaintiffs in Error and Appellants,
vs.
UNITED STATES OF AMERICA,
Defendant in Error and Appellee.
BRIEF OF PLAINTIFFS IN ERROR AND APPELLANTS.
Statement of Facts.
This case comes up on writ of error and appeal
upon an agreed statement of facts, which is briefly
as follows (Transcript of Record, pp. 4-10, 38-39,
125-128) :
The Northern Commercial Company, and the
Northern Navigation Company, for some years
past, have operated steamboats and barges for
the transportation of freight and passengers on
the Yukon River in Alaska and also between points
in Alaska and Canada.
---
archive.org Volume Name: govuscourtsca9briefs0825
Volume: http://archive.org/stream/govuscourtsca9briefs0825
Document Link: http://archive.org/stream/govuscourtsca9briefs0825#page/n706/mode/1up
Top Keywords (auto-generated):
tax, alaska, license, statute, district, elsewhere, lines, river, steamers, paying, vessels, erred, word, transportation, registered
Top Key Phrases (auto-generated):
tax elsewhere, transportation lines, license tax, paying license, mechanical power, lake steamers, business wholly, lines propelled, yukon territory, yukon river, passenger transportation, net tonnage, northern commercial, lewis sutherland, tonnage customhouse
Document Status: UGLY