v0825-743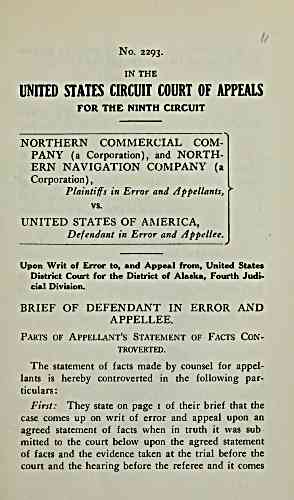 No. 2293.
IN THE
UNITED STATES CIRCUIT COURT OF APPEALS
FOR THE NINTH CIRCUIT
NORTHERN COMMERCIAL COxM-
PANY (a Corporation), and NORTH-
ERN NAVIGATION COMPANY (a
Corporation),
Plaintiffs in Error and Appellants,
vs.
UNITED STATES OF AMERICA,
Defendant in Error and Appellee.
Upon Writ of Error to, and Appeal from, United States
District Court for the District of Alaska, Fourth Judi-
cial Division.
BRIEF OF DEFENDANT IN ERROR AND
APPELLEE.
Parts of Appellant's Statement of Facts Con-
troverted.
The statement of facts made by counsel for appel-
lants is hereby controverted in the following par-
ticulars:
First: They state on page 1 of their brief that the
case comes up on writ of error and appeal upon an
agreed statement of facts when in truth it was sub
mitted to the court below upon the agreed statement
of facts and the evidence taken at the trial before the
court and the hearing before the referee and it comes
---
archive.org Volume Name: govuscourtsca9briefs0825
Volume: http://archive.org/stream/govuscourtsca9briefs0825
Document Link: http://archive.org/stream/govuscourtsca9briefs0825#page/n742/mode/1up
Top Keywords (auto-generated):
alaska, license, tax, ed, statute, power, vessels, elsewhere, district, section, propelled, barges, tonnage, mechanical, transportation
Top Key Phrases (auto-generated):
mechanical power, license tax, transportation lines, tax elsewhere, paying license, passenger transportation, lines propelled, section 460, tonnage custom, power registered, net tonnage, local government, custom house, appel lants, word elsewhere
Document Status: UGLY