v0832-499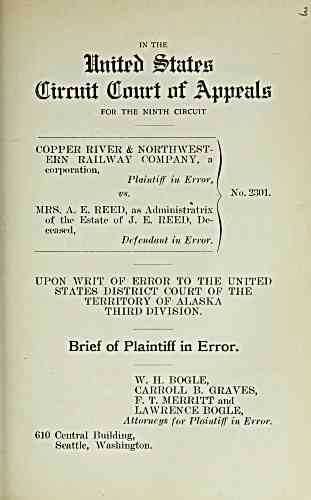 TN THE
Ctrmtt Court nf A;ij?al0
FOR THE NINTH CIRCUIT
COPPER RIVER & NORTHWEST-
ERN RAILWAY COMPANY, a
corporation,
Plaint iff in Error,
vs. No. 2301.
MRS. A. E. REED, as Administratrix
of the Estate of J. E. REED, De-
ceased,
Defendant in Error.
UPON WRIT OF ERROR TO THE UNITED
STATES DISTRICT COURT OF THE
TERRITORY OF ALASKA
THIRD DIVISION.
Brief of Plaintiff in Error.
BOGLE,
CARROLL B. GRAVES,
MERRITT and
LAWRENCE BOGLE,
Attorneys for Plaintiff in Error.
610 Central Building,
Seattle, Washington.
---
archive.org Volume Name: govuscourtsca9briefs0832
Volume: http://archive.org/stream/govuscourtsca9briefs0832
Document Link: http://archive.org/stream/govuscourtsca9briefs0832#page/n498/mode/1up
Top Keywords (auto-generated):
bridge, negligence, rotary, deceased, ashes, pan, track, fire, allowed, roadbed, reed, instruction, death, fireman, hours
Top Key Phrases (auto-generated):
allowed instruction, ash pan, negli gence, instruction requested, defend ant, track walker, contributory negligence, statute enacted, cor dova, common carrier, rotary train, officers agents, fellow servant, copper river, consecutive hours
Document Status: UGLY