v0832-611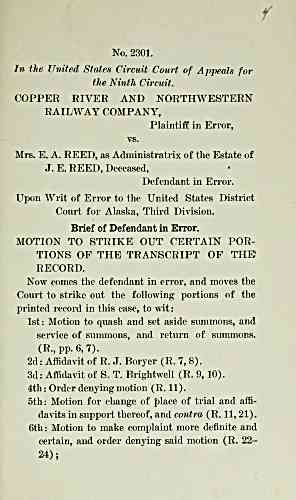 Y
No. 2301.
In tile United States Circuit Court of Appeals for
the Ninth Circuit.
COPPER RIVER AND NORTHWESTERN
RAILWAY COMPANY,
Plaintiff in Error,
vs.
Mrs. E. A. REED, as Administratrix of the Estate of
REED, Deceased,
Defendant in Error.
Upon Writ of Error to the United States District
Court for Alaska, Third Division.
Brief of Defendant in Error.
MOTION TO STRIKE OUT CERTAIN POR-
TIONS OF THE TRANSCRIPT OF THE?
RECORD.
Now comes the defendant in error, and moves the
Court to strike out the following portions of the
printed record in this case, to wit:
1st: Motion to quash and set aside summons, and
service of summons, and return of summons.
(R.,pp.6,7).
2d: Affidavit of R. J. Boryer (R. 7, 8).
3d: Affidavit of S. T. Brightwell (R. 9, 10).
4th : Order denying motion (R. 11).
5th: Motion for change of place of trial and affi-
davits in support thereof, and contra (R. 11, 21).
6th: Motion to make complaint more definite and
certain, and order denying said motion (R. 22-
24);
---
archive.org Volume Name: govuscourtsca9briefs0832
Volume: http://archive.org/stream/govuscourtsca9briefs0832
Document Link: http://archive.org/stream/govuscourtsca9briefs0832#page/n610/mode/1up
Top Keywords (auto-generated):
transcript, exceptions, bill, instructions, assignments, paper, raised, strike, printed, denying, damages, considered, authenticated, assignment, 346
Top Key Phrases (auto-generated):
assignment complains, special venire, ques tions, instructions requested, inclusive complain, directing issuance, copper river, assignments nos., assign ments, 349 355, 347 ., 346 347, xo request, work independently., word refused
Document Status: UGLY