v0837-7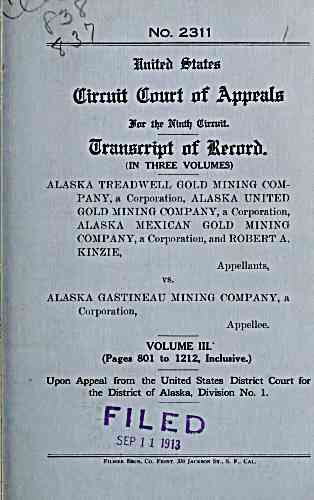 vs
^
a
No. 2311
Qltrrmt Qloitrt of Appeals
(IN THREE VOLUMES)
ALASKA TREAD WELL GOLD MINING COM-
PANY, a Corporation, ALASKA UNITED
GOLD MINING COMPANY, a Corporation,
ALASKA MEXICAN GOLD MINING
COMPANY, a Corporation, and ROBERT A.
KINZIE,
Ai)pellants,
vs.
ALASKA GASTINEAU MINING COMPANY, a
Corporation,
Appellee.
VOLUME IIL
(Pages 801 to 1212, Inclusive.)
Upon Appeal from the United States District Court for
the District of Alaska, Division No. 1.
fLED
FiLMER Bros. Co. Print. 330 Jackson St., S. F., Cal.
---
archive.org Volume Name: govuscourtsca9briefs0837
Volume: http://archive.org/stream/govuscourtsca9briefs0837
Document Link: http://archive.org/stream/govuscourtsca9briefs0837#page/n6/mode/1up
Top Keywords (auto-generated):
power, mining, alaska, interrogatory, gold, horse, current, 300, corporation, cross, contract, factor, treadwell, motor, gastineau
Top Key Phrases (auto-generated):
gold mining, horse power, power factor, cross interrogatory, alaska treadwell, alaska gastineau, gastineau mining, treadwell gold, 300 horse, sheep creek, san francisco, alaska mexican, mexican gold, oxford mining, power plant
Document Status: UGLY