v0845-7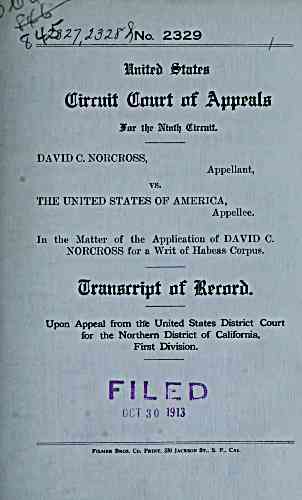 ej }?a27 f JjZr%No. 2329
United States
(Etrrmi (Eourt of Appeals
3far tip Nttttfj GItrrmt
DAVID C. NORCROSS,
Appellant,
vs.
THE UNITED STATES OF AMERICA,
Appellee.
In the Matter of the Application of DAVID C.
NORCROSS for a Writ of Habeas Corpus.
rattHrnpt of Slworfr
Upon Appeal from the United States District Court
for the Northern District of California,
First Division.
FILED
OCT 3 1913
Filmer Bros. Co. Print. 330 Jackson St.. S. F.. Cal.
---
archive.org Volume Name: govuscourtsca9briefs0845
Volume: http://archive.org/stream/govuscourtsca9briefs0845
Document Link: http://archive.org/stream/govuscourtsca9briefs0845#page/n6/mode/1up
Top Keywords (auto-generated):
grand, fuel, district, western, norcross, california, books, coal, northern, 1913, subpoena, papers, david, san, county
Top Key Phrases (auto-generated):
western fuel, northern district, san francisco, books papers, grand jurors, conspiracy combination, combination confederation, august 1913, duces tecum, subpoena duces, habeas corpus., coal loaded, shore bunker, january 1904, september 1913,
Document Status: UGLY