v0847-613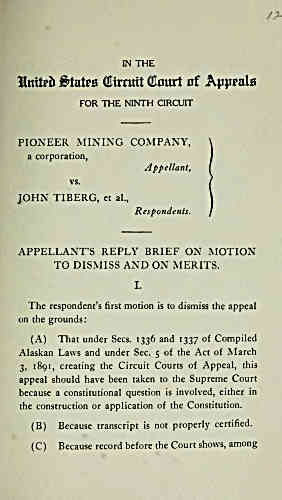 IN THE
Imteii BUUb Oltrrutt fflnurt nf Appab
FOR THE NINTH CIRCUIT
PIONEER MINING COMPANY,
a corporation,
Appellant,
vs.
JOHN TIBERG, et al..
Respondents.
APPELLANT'S REPLY BRIEF ON MOTION
TO DISMISS AND ON MERITS.
I.
The respondent's first motion is to dismiss the appeal
on the grounds :
(A) That under Sees. 1336 and 1337 of Compiled
Alaskan Laws and under Sec. 5 of the Act of March
3, 1891, creating the Circuit Courts of Appeal, this
appeal should have been taken to the Supreme Court
because a constitutional question is involved, either in
the construction or application of the Constitution.
(B) Because transcript is not properly certified.
(C) Because record before the Court shows, among
---
archive.org Volume Name: govuscourtsca9briefs0847
Volume: http://archive.org/stream/govuscourtsca9briefs0847
Document Link: http://archive.org/stream/govuscourtsca9briefs0847#page/n612/mode/1up
Top Keywords (auto-generated):
property, criminal, bill, transcript, tiberg, proceeds, stolen, trust, jurisdiction, money, injunction, demurrer, civil, below, amendment
Top Key Phrases (auto-generated):
stolen property, pendente lite, injunction pendente, fourth amendment, statu quo, constructive trust, august i8th, status quo, personal property, pendente lite., equitable title, unreasonable searches, pur pose, pro ceedings, junction pendente
Document Status: UGLY