v0854-7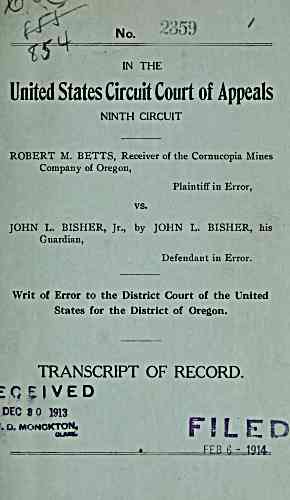 No.
ft
4
IN THE
United States Circuit Court of Appeals
NINTH CIRCUIT
ROBERT M. BETTS, Receiver of the Cornucopia Mines
Company of Oregon,
Plaintiff in Error,
VS.
JOHN L. BISHER, Jr., by JOHN L. BISHER, his
Guardian,
Defendant in Error.
Writ of Error to the District Court of the United
States for the District of Oregon.
TRANSCRIPT OF RECORD.
iCglVED
DEC 8 1913
VD.MOHCKTON. FILED
FF B fi - 1914
---
archive.org Volume Name: govuscourtsca9briefs0854
Volume: http://archive.org/stream/govuscourtsca9briefs0854
Document Link: http://archive.org/stream/govuscourtsca9briefs0854#page/n6/mode/1up
Top Keywords (auto-generated):
wire, work, wires, receiver, betts, robert, john, pole, guardian, mines, oregon, smith, bisher, right, cornucopia
Top Key Phrases (auto-generated):
cornucopia mines, betts receiver, rubber gloves, bctts receiver, 2300 volts, cross arm, weather insulation, harry harbert, johnnie bisher, quartz lode, lode mining, power plant, betts lessee, rights requests, live wires
Document Status: UGLY