v0917-487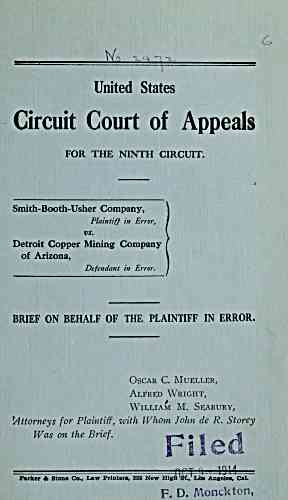 6
No -x^ n -^
J
United States
Circuit Court of Appeals
FOR THE NINTH CIRCUIT.
Smith-Booth-Usher Company,
Plaiiitiff in Error,
VS.
Detroit Copper Mining Company
of Arizona,
Defendant in Error.
BRIEF ON BEHALF OF THE PLAINTIFF IN ERROR.
Oscar C. MueiWR,
AivFRED Wright,
WiivUAM M. Seabury,
l4ttorneys for Plaintiff, with Whom John de R. Storey
Was on the Brief.
Fi
tlltSi., L.63 Angrelea.
Parker & Stone Co., Law Printers, 238 New HlgltSt., Los Angrelea, CaL
Monckton,
---
archive.org Volume Name: govuscourtsca9briefs917
Volume: http://archive.org/stream/govuscourtsca9briefs917
Document Link: http://archive.org/stream/govuscourtsca9briefs917#page/n486/mode/1up
Top Keywords (auto-generated):
gas, contract, cox, holder, plant, pipes, test, suspended, machinery, tests, washer, submit, errors, view, smith
Top Key Phrases (auto-generated):
lamp black, rotary washer, evi dence, gas produced, gas holder, oil gas, crude oil, amet crude, gas plant, 200 horsepower, gas producers, el centro, written contract, suspended mat, pro vided
Document Status: UGLY