v0934-7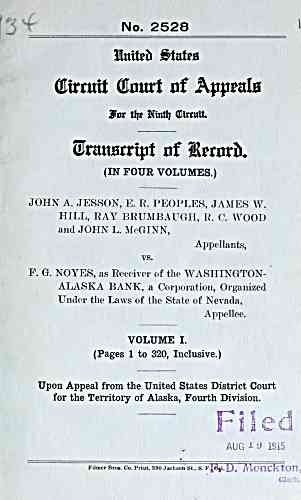 3 t^ No, 2528
dimmt (Hmvt of Appate
Jrattarnpt of Eworli^
(m FOUR VOLUMES.)
JOHN A. JESSON, E. R. PEOPLES, JAMES W.
HILL, RAY BRUMBAUGH, R. C. WOOD
and JOHN L. McGINN,
Appellants,
vs.
NO YES, as Receiver of the WASHINGTON-
ALASKA BANK, a Corporation, Organized
Under the Laws of the State of Nevada,
Appellee.
VOLUME I.
(Pages 1 to 320, Inclusive.)
Upon Appeal from the United States District Court 'i
for the Territory of Alaska, Fourth Division.
i
AUG ^ '^ 1915 i
Pilmer Bros. Co. Print, 330 Jackson St.. S. P.l. ), AOflCk tOtl,
---
archive.org Volume Name: govuscourtsca9briefs934
Volume: http://archive.org/stream/govuscourtsca9briefs934
Document Link: http://archive.org/stream/govuscourtsca9briefs934#page/n6/mode/1up
Top Keywords (auto-generated):
bank, fairbanks, banking, corporation, john, stock, alaska, paragraph, jesson, barnette, wood, washington, directors, 1908, deny
Top Key Phrases (auto-generated):
fairbanks banking, alaska bank, washington alaska, capital stock, gold bar, bar lumber, national bank, fair banks, answering paragraph, fairbanks alaska, banks banking, march 1908, vice president, para graph, dexter horton
Document Status: UGLY