v0937-355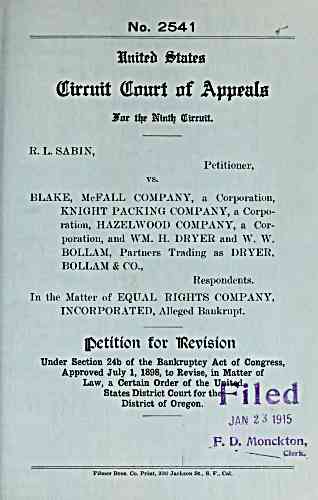 No. 2541
4
.^
dtrrmt Olourt of Apjiala
JITor tlP Nttttlj (dirruit
SABIN,
Petitioner,
vs.
BLAKE, McFALL COMPANY, a Corporation,
KNIGHT PACKING COMPANY, a Corpo-
ration, HAZELWOOD COMPANY, a Cor-
poration, and WM. H. DRYER and W. W.
BOLLAM, Partners Trading as DRYER,
BOLLAM & CO.,
Respondents.
In the Matter of EQUAL RIGHTS COMPANY,
INCORPORATED, Alleged Bankrupt.
Ipetition for TRevision
Under Section 24b of the Bankruptcy Act of Congress,
Approved July 1, 1898, to Revise, in Matter of
Law, a Certain Order of the Uj
States District Court for th
District of Oregon.
Filed
JAN 2o 1915
Monckton,
Clerk.
Filmer Bros. Co. Print, 330 Jackson St., S. F., Cal.
---
archive.org Volume Name: govuscourtsca9briefs937
Volume: http://archive.org/stream/govuscourtsca9briefs937
Document Link: http://archive.org/stream/govuscourtsca9briefs937#page/n354/mode/1up
Top Keywords (auto-generated):
petition, 1914, corporation, oregon, district, rights, equal, blake, mcfall, inc, bankrupt, dryer, creditors, bollam, november
Top Key Phrases (auto-generated):
equal rights, blake mcfall, dryer bollam, knight packing, november 1914, sabin petitioner, sidney teiser, petitioning creditors, december 1914, oregon county, multnomah ss., partners trading, corporation knight, bollam partners, september 1914,
Document Status: UGLY