v0938-7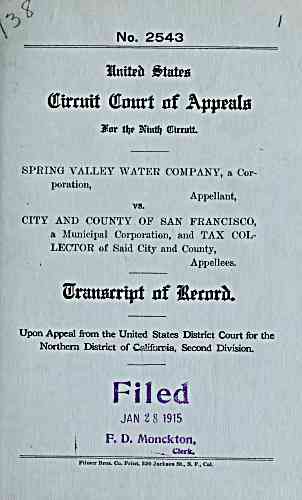 V
'"^
No, 2543
(Hxttnlt (Hmxt of Appiala
3ffiir tilt Nttttlf Cdtrrmt.
SPRING VALLEY WATER COMPANY, a Cor-
poration,
Appellant,
vs.
CITY AND COUNTY OF SAN FRANCISCO,
a Municipal Corporation, and TAX COL-
LECTOR of Said City and County,
i Appellees.
EvmBtttpt 0f Iworli.
Upon Appeal from the United States District Court for the
Northern District of Califorrda, Second Division.
File
JAN 2 8 1915
Monckton,
_ Clerk.
Filmcr Bros. Co. Print, 330 Jackson St., S. F., Cal.
---
archive.org Volume Name: govuscourtsca9briefs938
Volume: http://archive.org/stream/govuscourtsca9briefs938
Document Link: http://archive.org/stream/govuscourtsca9briefs938#page/n6/mode/1up
Top Keywords (auto-generated):
san, francisco, city, county, water, moneys, spring, valley, district, bank, trust, mercantile, taxes, assessment, complainant
Top Key Phrases (auto-generated):
san francisco, valley water, spring valley, mercantile trust, national bank, impounded moneys, northern district, tax collector, special master, assessment roll, 344 26, taxes computed, sums deposited, rate amounting, levied thereon
Document Status: UGLY