v0939-269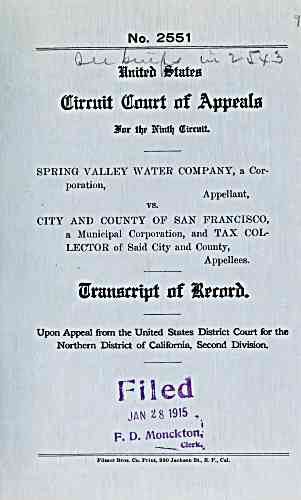 No. 2551
dtrmit (Hmxt of AiiJaIa
STor tlp N'tntlj Oltrrutt.
SPRING VALLEY AVATER COMPANY, a Cor-
poration,
Appellant,
vs.
CITY AND COUNTY OF SAN FRANCISCO,
a Municipal Corporation, and TAX COL-
LECTOR of Said City and County,
Appellees.
Wvm&tvxpt at Wttarh.
1
Upon Appeal from the United States District Court for the
Northern District of California, Second Division.
railed
JAN U1915 ,
iWonckton,
Pilmer Bros. Co. Print, 330 Jackson St., S. P., Cal.
---
archive.org Volume Name: govuscourtsca9briefs939
Volume: http://archive.org/stream/govuscourtsca9briefs939
Document Link: http://archive.org/stream/govuscourtsca9briefs939#page/n268/mode/1up
Top Keywords (auto-generated):
san, francisco, city, county, district, spring, water, valley, bank, actions, complainant, california, national, wells, fargo
Top Key Phrases (auto-generated):
san francisco, spring valley, valley water, wells fargo, national bank, fargo nevada, nevada national, tax collector, northern district, sums deposited, cor poration, san fran, poration complainant, van fleet, schaertzer deputy
Document Status: UGLY