v0939-517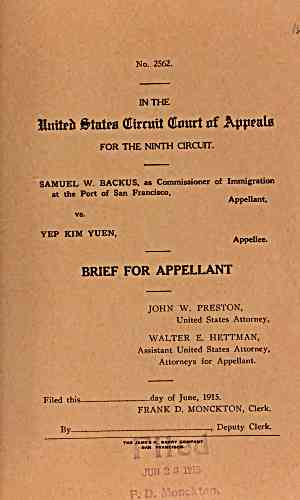 No. 2562.
IN THE
Entteb BUttB (Hxtmxt (Hmtt nf Appab
FOR THE NINTH CIRCUIT.
SAMUEL W. BACKUS, as Commissioner of Immigration
at the Port of San Francisco,
Appellant,
vs.
YEP KIM YUEN,
Appellee.
BRIEF FOR APPELLANT
JOHN W. PRESTON,
United States Attorney,
WALTER E. HETTMAN,
Assistant United States Attorney,
Attorneys for Appellant.
Filed this day of June, 1915.
FRANK D. MONCKTON, Clerk.
gy , Deputy Clerk.
y^'LW.. ^ ^^ '
THE JAMES H. BARRY pOMPANT
SAN FRANCISCO
---
archive.org Volume Name: govuscourtsca9briefs939
Volume: http://archive.org/stream/govuscourtsca9briefs939
Document Link: http://archive.org/stream/govuscourtsca9briefs939#page/n516/mode/1up
Top Keywords (auto-generated):
father, secretary, labor, yep, son, immigration, department, commissioner, citizen, identity, district, decision, applicant, yuen, san
Top Key Phrases (auto-generated):
yep kim, san francisco, habeas corpus, yep lung, kim yuen, lung gon, acting secretary, father yep, corpus issued, chief flynn, angel island, son yep, res adjudicata, picture attached, photograph attached
Document Status: UGLY