v0960-7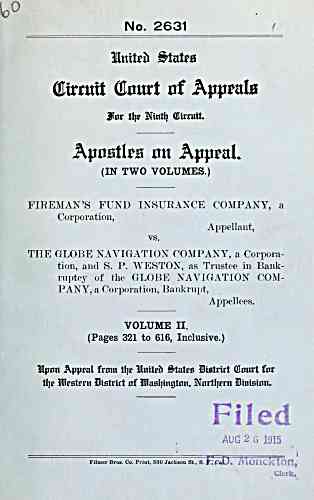 No. 2631
Ctrrmt (Hmvt of Kpptnln
Apostles on Appeal
(IN TWO VOLUMES.)
FIREMAN'S FUND INSURANCE COMPANY, a
Corporation,
Appellant,
vs.
THE GLOBE NAVIGATION COMPANY, a Corpora-
tion, and S. P. WESTON, as Trustee in Bank-
ruptcy of the GLOBE NAVIGATION COM-
PANY, a Corporation, Bankrupt,
Appellees.
VOLUME II.
(Pages 321 to 616, Inclusive.)
Upon Appeal from tlp litttpb BUUb itBtrut (Utinvt for
tIjF We&Urn liHtrtrt of Haaliingtun, -Nortliprn Stutaloit.
Filed
AUG 2 G 1915
Filmer Bros. Co. Print, 330 Jackson St., S. r*iJD. AlOIlCk tOflj
---
archive.org Volume Name: govuscourtsca9briefs960
Volume: http://archive.org/stream/govuscourtsca9briefs960
Document Link: http://archive.org/stream/govuscourtsca9briefs960#page/n6/mode/1up
Top Keywords (auto-generated):
vessel, insurance, fund, navigation, globe, fireman, clise, campbell, district, policy, adjustment, nottingham, loss, item, policies
Top Key Phrases (auto-generated):
fund insurance, globe navigation, san francisco, johnson higgins, glohe navigation, partial loss, captain crow, washington northern, western district, salvage charges, william nottingham, stern post, captain gibbs, marginal clause, incompetent irrele
Document Status: UGLY