v0963-277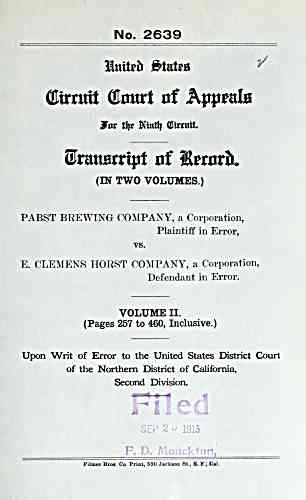 No. 2639
Oltrrtttt (Hmtt of KppmlB
3Fnr tljf NutfJi Oltrnitt
Wtumtvipt of SworJi.
(m TWO VOLUMES.)
PABST BREWING COMPANY, a Corporation,
Plaintiff in Error,
vs.
CLEMENS HORST COMPANY, a Corporation,
Defendant in Error.
VOLUME II.
(Pages 257 to 460, Inclusive.)
Upon Writ of Error to the United States District Court
of the Northern District of California,
Second Division.
St? 2 o 1915
Fe D. Monrkton,
Filmer Bros. Co. Print, 330 Jackgon St., S. F., Gal.
---
archive.org Volume Name: govuscourtsca9briefs963
Volume: http://archive.org/stream/govuscourtsca9briefs963
Document Link: http://archive.org/stream/govuscourtsca9briefs963#page/n276/mode/1up
Top Keywords (auto-generated):
hops, bales, horst, pabst, samples, choice, 1912, hop, brewing, clemens, cosumnes, contract, price, quality, powers
Top Key Phrases (auto-generated):
clemens horst, pabst brewing, cosumnes hops, air dried, november 4th, 2000 bales, pahst brewing, dried cosumnes, choice hops, 4th 1912, pabst goods, gustav pabst., choice hop, choice cosumnes, san francisco
Document Status: UGLY