v1008-475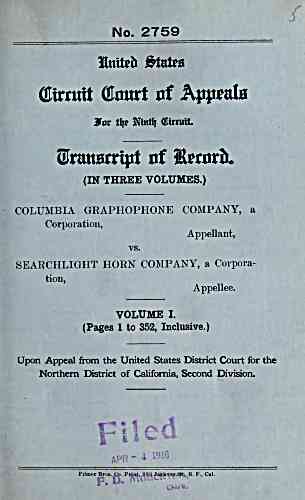 J
No. 2759
Oltrtmt (Hmvt of KpmU
Jor tlP Ntntlj Qltrrttlt.
rattamjjt of Uworli.
(IN THREE VOLUMES.)
COLUMBIA GRAPHOPHONE COMPANY, a
Corporation,
Appellant,
SEARCHLIGHT HORN COMPANY, a Corpora-
tion,
Appellee.
VOLUME I.
(Pages 1 to 352, Inclusive.)
Upon Appeal from the United States District Court for the
Northern District of California, Second Division.
Filed
Filmer Bros. Co. Print, 330 Jackson-St., S. F., Cal.
---
archive.org Volume Name: govuscourtsca9briefs1008
Volume: http://archive.org/stream/govuscourtsca9briefs1008
Document Link: http://archive.org/stream/govuscourtsca9briefs1008#page/n474/mode/1up
Top Keywords (auto-generated):
horn, horns, patent, nielsen, searchlight, deposition, phonograph, columbia, sound, machine, end, talking, flower, construction, xq
Top Key Phrases (auto-generated):
searchlight horn, columbia graphophone, nielsen patent, talking machine, flower horn, hawthorne sheble, letters patent, national phonograph, flower horns, small end, talking machines, nielsen horn, san francisco, amplifying horn, sheble mfg.,
Document Status: UGLY