v1012-655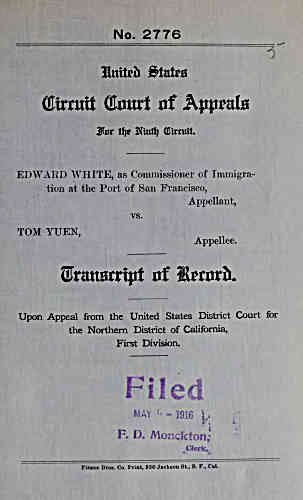 No. 2776
Unttefc States
(Etrnttf (tori of AppmU
Star tlp Nutil? trout.
EDWARD WHITE, as Commissioner of Immigra-
tion at the Port of San Francisco,
Appellant,
vs.
TOM YUEN,
Appellee.
SfrattHmpi of XttoriL
Upon Appeal from the United States District Court for
the Northern District of California,
First Division.
Filed
MAY 6 - 1916 L J
Monckfon;
u Clerk.
Filmer Eros. Co. Print, 330 Jackson St., S. F., Cal.
---
archive.org Volume Name: govuscourtsca9briefs1012
Volume: http://archive.org/stream/govuscourtsca9briefs1012
Document Link: http://archive.org/stream/govuscourtsca9briefs1012#page/n654/mode/1up
Top Keywords (auto-generated):
petitioner, district, yuen, tom, habeas, corpus, white, immigration, california, edward, petition, northern, san, 1915, respondent
Top Key Phrases (auto-generated):
tom yuen, edward white, habeas corpus, northern district, tom yuen., san francisco, chinese laborer, habeas corpus., calbreath deputy, white commissioner, timothy healy, divi sion., mcnab timothy, ornbaum asst., immigration officers
Document Status: UGLY