v1025-445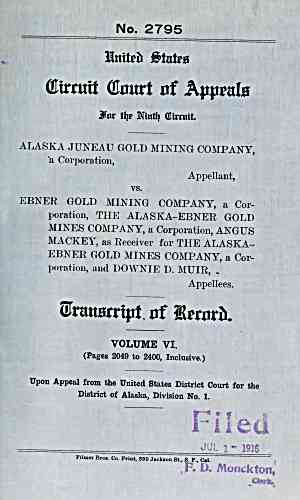 No. 2795
MnxUb States
dtrrutt Qlmtrf of Apprala
3far % Nitrify Glirrmt.
ALASKA JUNEAU GOLD MINING COMPANY,
"a Corporation,
Appellant,
vs.
EBNER GOLD MINING COMPANY, a Cor-
poration, THE ALASKA-EBNER GOLD
MINES COMPANY, a Corporation, ANGUS
MACKEY, as Receiver for THE ALASKA-
EBNER GOLD MINES COMPANY, a Cor-
poration, and DOWNIE D. MUIR, .
Appellees.
Sfrmtwrtpt of ftttata.
VOLUME VI.
(Pages 2049 to 2400, Inclusive.)
Upon Appeal from the United States District Court for the
District of Alaska, Division No. 1.
JUl 1 ~ 1916 .
Filmer Bros. Co. Print, 330 Jackson St., S. P., Cal.
Monckton f
aw*
---
archive.org Volume Name: govuscourtsca9briefs1025
Volume: http://archive.org/stream/govuscourtsca9briefs1025
Document Link: http://archive.org/stream/govuscourtsca9briefs1025#page/n444/mode/1up
Top Keywords (auto-generated):
mining, alaska, gold, water, district, juneau, creek, ebner, cm, lode, recorded, right, book, location, claims
Top Key Phrases (auto-generated):
gold mining, ebner gold, alaska juneau, juneau gold, gold creek, harris mining, mining district, cape horn, juneau recording, juneau alaska, district recorder., recording district, mill site, lurvey creek, cm cm
Document Status: UGLY