v1043-673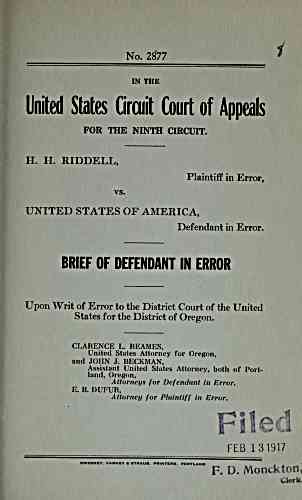 No. 2877
IN THE
United Slates Circuit Court of Appeals
FOR THE NINTH CIRCUIT.
RIDDELL,
Plaintiff in Error,
vs.
UNITED STATES OF AMERICA,
Defendant in Error.
BRIEF OF DEFENDANT IN ERROR
Upon Writ of Error to the District Court of the United
States for the District of Oregon.
CLARENCE L. REAMES,
United States Attorney for Oregon,
and JOHN J. BECKMAN,
Assistant United States Attorney, both of Port-
land, Oregon,
Attorneys for Defendant in Error.
DUFUR,
Attorney for Plaintiff in Error.
FEB 131917
SWKKNKV. VARNKY STMAUB. PRINTKRS. PORTLAND
Monckton,
---
archive.org Volume Name: govuscourtsca9briefs1043
Volume: http://archive.org/stream/govuscourtsca9briefs1043
Document Link: http://archive.org/stream/govuscourtsca9briefs1043#page/n672/mode/1up
Top Keywords (auto-generated):
lands, scheme, indictment, defraud, trans, contract, oregon, land, riddell, mailed, counts, farm, 40, false, associates
Top Key Phrases (auto-generated):
contract holders, oregon inland, veasen lands, klamath falls, inland development, clearance receipts, union wallowa, represent promise, public generally, farm lands, contract holder, auction contracts, auction contract, union county, pretend represent
Document Status: UGLY