v1082-5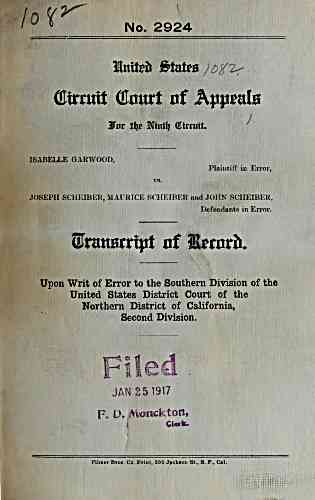 K^
^ ^ No. 2924
Imtoii ^XXt^ joT^-
Ctrmtt Qlourt of Ajjpala
ISABELLE GARWOOD,
Plaintiff in Error,
JOSEPH SCHEIBER, MAURICE SCHEIBER and JOHN SCHEIBER,
Defendants in Error.
ranarrtjrt of lrnrJi.
Upon Writ of Error to the Southern Division of the
United States District Court of the
Northern District of California,
Second Division.
JAN 25 1917
Filraer Bros. Co. Print, 330 Jackson St., S. F., Cal.
---
archive.org Volume Name: govuscourtsca9briefs1082
Volume: http://archive.org/stream/govuscourtsca9briefs1082
Document Link: http://archive.org/stream/govuscourtsca9briefs1082#page/n4/mode/1up
Top Keywords (auto-generated):
land, garwood, ranch, scheiber, levee, alfalfa, river, property, miss, joseph, macomber, acre, water, ramos, isabelle
Top Key Phrases (auto-generated):
miss garwood, joseph scheiher, isabelle garwood, isahelle garwood, joseph scheiber, scheiber brothers, alfalfa land, california colonization, isabelle garwood., feather river, personal property, sutter county, morris scheiber., john scheiber, nicolaus allgier
Document Status: UGLY