v1104-196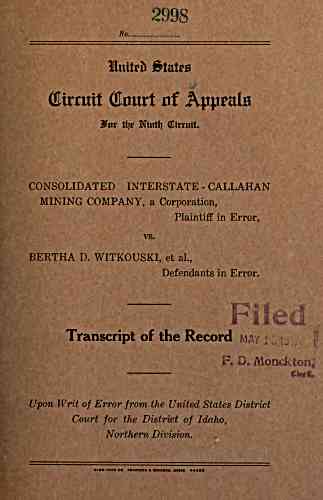 No.
Qltrmit Court of Appeals
Jffor tt Nttttlj (Etrrutt.
CONSOLIDATED INTERSTATE - CALLAHAN
MINING COMPANY, a Corporation,
Plaintiff in Error,
vs.
BERTHA D. WITKOUSKI, et al.,
Defendants in Error.
Transcript of the Record
Morxdvtor
Upon Writ of Error from the United States District
Court for the District of Idaho,
Northern Division.
SYMSTORII CO..
---
archive.org Volume Name: govuscourtsca9briefs1104
Volume: http://archive.org/stream/govuscourtsca9briefs1104
Document Link: http://archive.org/stream/govuscourtsca9briefs1104#page/n195/mode/1up
Top Keywords (auto-generated):
hoist, witkouski, plummer, clutch, wayne, shaft, bucket, bertha, consolidated, accident, callahan, cable, min, interstate, drum
Top Key Phrases (auto-generated):
callahan min., consolidated interstate, interstate callahan, consolidated inter, reasonably safe, clutch bolt, master mechanic, clutch band, guardian ad, callahan mining, ad litem, accident occurred, fellow servant, charles witkouski, witkouski minors
Document Status: UGLY