v1113-5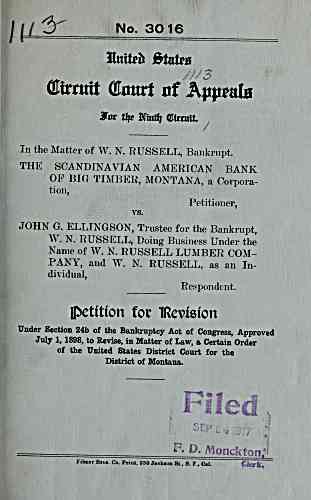 iu
No. 30 16
ffitrmtt Qlottrf of Apjtafe
arnr % Hwtly Cdtrrttit
In the Matter of W. N. RUSSELL, Bankrupt.
THE SCANDINAVIAN AMERICAN BANK
OF BIG TIMBER, MONTANA, a Corpora-
tion,
Petitioner,
vs.
JOHN G. ELLINGSON, Trustee for the Bankrupt,
RUSSELL, Doing Business Under the
Name of W. N. RUSSELL LUMBER COM-
PANY, and W. N. RUSSELL, as an In-
dividual,
Respondent.
Ipetition for IRevision
Under Section 24b of the Bankruptcy Act of Congress, Approved
July 1, 1898, to Revise, in Matter of Law, a Certain Order
of the United States District Court for the
District of Montana.
lie
Filmer Bros. Co. Priut, 330 Jackson St . S. F., Cal. ^'ftSSli^
---
archive.org Volume Name: govuscourtsca9briefs1113
Volume: http://archive.org/stream/govuscourtsca9briefs1113
Document Link: http://archive.org/stream/govuscourtsca9briefs1113#page/n4/mode/1up
Top Keywords (auto-generated):
russell, bank, scandinavian, mortgage, timber, lumber, 1915, american, mont, business, arnold, chattel, john, moe, june
Top Key Phrases (auto-generated):
american bank, scandinavian american, timber mont., chattel mortgage, russell lumber, goods wares, june 1915, evi dence, timber mont, agents servants, february 1916, tim ber, sweet grass, june 29th, living expenses
Document Status: UGLY