v1118-549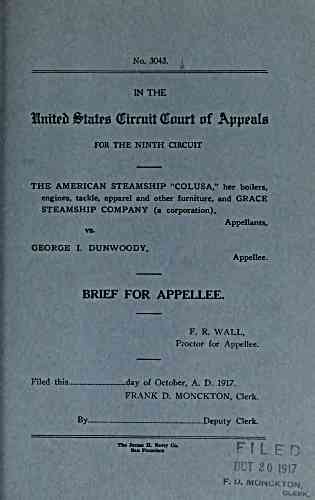 No. 3043.
IN THE
IntteJn BUUb (Hirtnit (Hvrnvt nf Appeals
FOR THE NINTH CIRCUIT
THE AMERICAN STEAMSHIP "COLUSA," her boilers,
engines, tackle, apparel and other furniture, and GRACE
STEAMSHIP COMPANY (a corporation).
Appellants,
vs.
GEORGE I. DUNWOODY,
Appellee.
BRIEF FOR APPELLEE.
WALL,
Proctor for Appellee.
Filed this day of October, A. D. 1917.
FRANK D. MONCKTON, Clerk.
By Deputy Clerk.
The James H. Barry Co.
San FronciBCo
Ff L E n
f CT 20 1917
MONCKTON
---
archive.org Volume Name: govuscourtsca9briefs1118
Volume: http://archive.org/stream/govuscourtsca9briefs1118
Document Link: http://archive.org/stream/govuscourtsca9briefs1118#page/n548/mode/1up
Top Keywords (auto-generated):
turnbuckle, nail, negligence, seaman, hook, ship, boatswain, vessel, hole, section, deposition, seamen, pin, pelican, mate
Top Key Phrases (auto-generated):
pelican hook, split pin, turn buckle, stillson wrench, pro duce, gives orders, forecastle head, fellow servants, fellow servant, deck lashings, steamship colusa, san francisco, pro duced, osceola 189, negli gence
Document Status: UGLY