v1168-367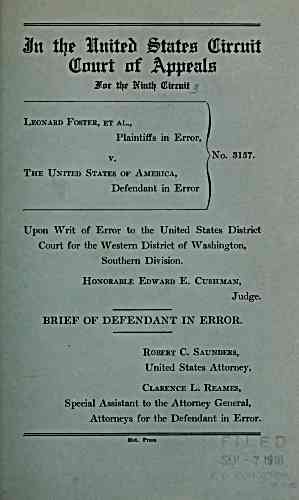 M tlf^ Httttfli ^tatH Qltrrmt
Olourt of Apjf als
STor tiy? Ntnlli (Utrrttit
Leonard Foster, et al..
Plaintiffs in Error,
y No. 3157.
The United States of America,
Defendant in Error
Upon Writ of Error to the United States District
Court for the Western District of Washington,
Southern Division.
Honorable Edward E. Cushman,
Judge.
BRIEF OF DEFENDANT IN ERROR.
Robert C. Saunders,
United States Attorney,
Clarence L. Reames,
Special Assistant to the Attorney General,
Attorneys for the Defendant in Error.
Met. Press
---
archive.org Volume Name: govuscourtsca9briefs1168
Volume: http://archive.org/stream/govuscourtsca9briefs1168
Document Link: http://archive.org/stream/govuscourtsca9briefs1168#page/n366/mode/1up
Top Keywords (auto-generated):
january, indictment, 1918, rec, bill, statute, language, government, district, bar, sufficiency, review, particulars, motions, demurrer
Top Key Phrases (auto-generated):
western district, washington southern, tran script, special assistant, reames special, leonard foster, honorable edward, gen eral, extended notes, eral demurrer, col lins, ver dict, utrrttit leonard, tt tl, tl inttpb
Document Status: UGLY