v1169-315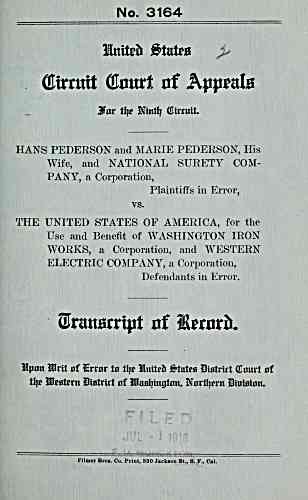 No. 3164
Oltrnttt (Unntt of Appala
3ot JIP Nitttlf (Eirtutt.
HANS PEDERSON and MARIE PEDERSON, His
Wife, and NATIONAL SURETY COM-
PANY, a Corporation,
Plaintiffs in Error,
vs.
THE UNITED STATES OF AMERICA, for the
Use and Benefit of WASHINGTON IRON
WORKS, a Corporation, and WESTERN
ELECTRIC COMPANY, a Corporation,
Defendants in Error.
SrattBmpt of SwnrJii.
Ipon Writ of Error to 1I0 Itttti StaUB itBtrtrt (dourt of
tip Wmtvn Btatrirt of Wafiljtttgtott, Nortlirn Stowtotu
Filmer Bros. Co. Print, 330 Jackson St., S. F., Cal.
---
archive.org Volume Name: govuscourtsca9briefs1169
Volume: http://archive.org/stream/govuscourtsca9briefs1169
Document Link: http://archive.org/stream/govuscourtsca9briefs1169#page/n314/mode/1up
Top Keywords (auto-generated):
pederson, washington, works, hans, iron, work, contract, machines, 1915, gate, government, 1916, item, western, machinery
Top Key Phrases (auto-generated):
hans pederson, iron works, washington iron, lock site, western electric, gate machines, national surety, iron works., gerald frink., wash ington, stoney gate, hans pederson., ington iron, seattle machine, washington northern
Document Status: UGLY