v1169-871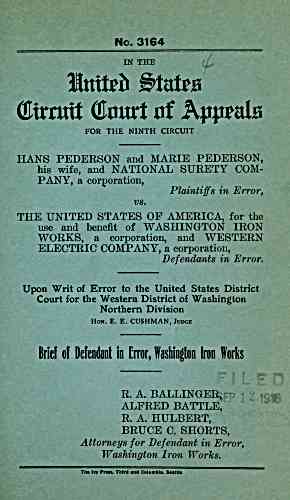 No. 3164
IN THE
CDtrmtt Court of Appab
FOR THE NINTH CIRCUIT
HANS PEDERSON and MARIE PEDERSON,
his wife, and NATIONAL SURETY COM-
PANY, a corporation.
Plaintiffs in Error,
vs.
THE UNITED STATES OF AMERICA, for the
use and benefit of WASHINGTON IRON
WORKS, a corporation, and WESTERN
ELECTRIC COMPANY, a corporation.
Defendants in Error,
Upon Writ of Error to the United States District
Court for the Western District of Washington
Northern Division
Hon. E. E. CUSHMAN, Judge
Brief of Defendant in Error, Minton Iron Works
BALLINGER,
ALFRED BATTLE,
HULBERT,
BRUCE C. SHORTS,
Attorneys for Defendant in Error,
Washington Iron Worhs.
Tli Ivy Presi. Third and Columbia. Seattia
---
archive.org Volume Name: govuscourtsca9briefs1169
Volume: http://archive.org/stream/govuscourtsca9briefs1169
Document Link: http://archive.org/stream/govuscourtsca9briefs1169#page/n870/mode/1up
Top Keywords (auto-generated):
works, iron, pederson, contract, work, items, rec, item, government, delay, furnished, 1915, 1916, washington, site
Top Key Phrases (auto-generated):
iron works, washington iron, lock site, iron works., western electric, hans pederson, offset items, contractor pederson, special findings, seattle machine, national surety, extra items, purchase price, peder son, gate machines
Document Status: UGLY