v1169-959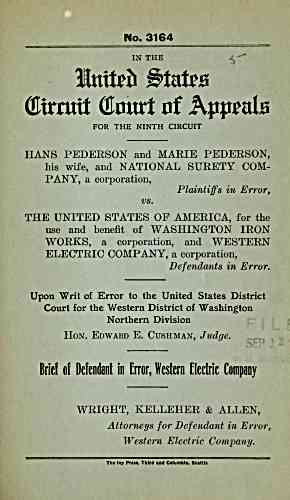 No. 3164
IN THE ^
(Hxttnit Court nf AppalB
FOR THE NINTH CIRCUIT
HANS PEDERSON and MARIE PEDERSON,
his wife, and NATIONAL SURETY COM-
PANY, a corporation.
Plaintiffs in Error,
vs,
THE UNITED STATES OF AMERICA, for the
use and benefit of WASHINGTON IRON
WORKS, a corporation, and WESTERN
ELECTRIC COMPANY, a corporation.
Defendants in Error,
Upon Writ of Error to the United States District
Court for the Western District of Washington
Northern Division
Hon. Edward E. Cushman, Judge.
Brief of Defendant in Error, Western Electric Company
WRIGHT, KELLEHER & ALLEN,
Attorneys for Defendant in Error,
Western Electric Company,
The Ivy Press, Third aad Columbia. Seattit
---
archive.org Volume Name: govuscourtsca9briefs1169
Volume: http://archive.org/stream/govuscourtsca9briefs1169
Document Link: http://archive.org/stream/govuscourtsca9briefs1169#page/n958/mode/1up
Top Keywords (auto-generated):
intervener, contract, settlement, pederson, department, western, electric, government, 1916, july, work, practice, payment, contractor, washington
Top Key Phrases (auto-generated):
western electric, war department, colonel cavanaugh, washington iron, iron works, electrical equipment, peder son, june 1916, hans pederson, complete performance, wright kelleher, western district, washington northern, washington city, treasury department.,
Document Status: UGLY