v1195-447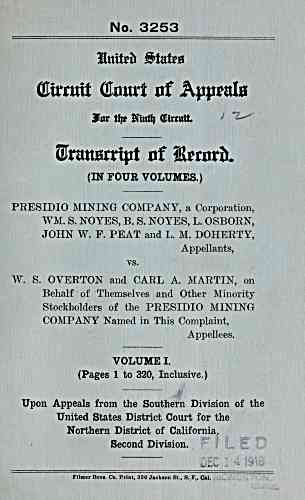 No. 3253
(Etrotfi (Emtt nf Appttxte
3ta % Jfitrtli front ^-^
Evtxmmpt of Hmtrii
(IN FOUR VOLUMES.)
PRESIDIO MINING COMPANY, a Corporation,
WM. S. NOYES, B. S. NO YES, L. OSBORN,
JOHN W. P. PEAT and L. M. DOHERTY,
Appellants,
vs.
OVERTON and CARL A. MARTIN, on
Behalf of Themselves and Other Minority
Stockholders of the PRESIDIO MINING
COMPANY Named in This Complaint,
Appellees.
VOLUME I.
(Pages 1 to 320, Inclusive.)
Upon Appeals from the Southern Division of the
United States District Court for the
Northern District of California,
Second Division.
L UV
v; ;
Filmer Bros. Co. Print, 330 Jackson St., S. F., Cal.
---
archive.org Volume Name: govuscourtsca9briefs1195
Volume: http://archive.org/stream/govuscourtsca9briefs1195
Document Link: http://archive.org/stream/govuscourtsca9briefs1195#page/n446/mode/1up
Top Keywords (auto-generated):
mining, presidio, noyes, corporation, directors, section, 1913, shares, bill, stockholders, stock, overton, osborn, complainants, mill
Top Key Phrases (auto-generated):
presidio mining, silver hill, hill mill, san francisco, mill mining, capital stock, minority stockholders, answering paragraph, northern district, presidio min, pre sidio, supplemental bill, sidio mining, cor poration, december 1912,
Document Status: UGLY