v1211-5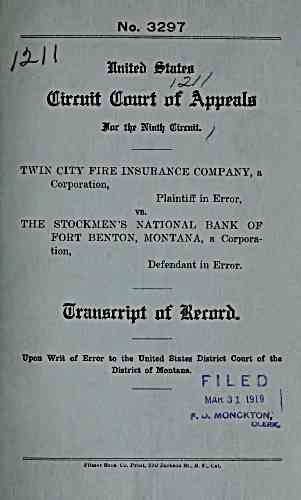 No. 3297
(Hmnxt (Hmxt of ApptnU
Jur % Ntntly Cdtrrmt.
r
TWIN CITY FIRE INSURANCE COMPANY, a
Corporation,
Plaintiff in Error,
vs.
THE STOCKMEN'S NATIONAL BANK OF
FORT BENTON, MONTANA, a Corpora-
tion,
Defendant in Error.
Wmn&mpt nf lnavh.
Upon Writ of Error to the United States District Court of the
District of Montana.
FILED
MAK31 1919 I
.mionckton;
i'iliuer Bros. Co. Priut, 330 Jackson St.. a. l, Cai.
---
archive.org Volume Name: govuscourtsca9briefs1211
Volume: http://archive.org/stream/govuscourtsca9briefs1211
Document Link: http://archive.org/stream/govuscourtsca9briefs1211#page/n4/mode/1up
Top Keywords (auto-generated):
hotel, policy, fire, saco, insurance, bank, loss, stockmen, skjerseth, montana, city, fort, benton, property, 1917
Top Key Phrases (auto-generated):
saco hotel, fort benton, fire insurance, city fire, twin city, national bank, benton mont., home builders, loss payable, payable clause, william dunbar, builders investment, policy contract, homebuilders investment, saco montana
Document Status: UGLY