v1221-247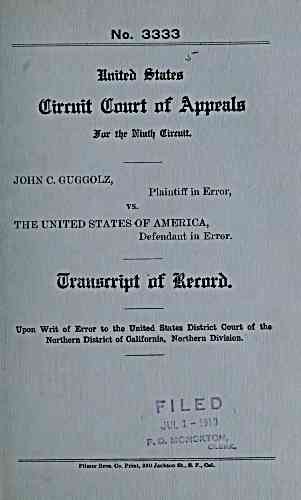 No. 3333
(Hxvtmt (Hmvt of ^pitnU
Jar tl0 Nttttlj dltwtttt
JOHN C. aUGGOLZ,
Plaintiff in Error,
vs.
THE UNITED STATES OF AMERICA,
Defendant in Error.
lauHmpt of ituaxh.
Upon Writ of Error to the United States District Court of the
Northern District of California, Northern Division. '
F I L E ~
Filmer Bros. Co. Print, 330 Jackson St., S. F., Cal.
---
archive.org Volume Name: govuscourtsca9briefs1221
Volume: http://archive.org/stream/govuscourtsca9briefs1221
Document Link: http://archive.org/stream/govuscourtsca9briefs1221#page/n246/mode/1up
Top Keywords (auto-generated):
guggolz, john, district, johnson, 1918, cross, conversation, war, lodi, indictment, seymour, northern, california, government, exception
Top Key Phrases (auto-generated):
northern district, franklin deputy, van fleet, defend ant, damn fool, van vleer, june 15th, truth honesty, seymour downey, honorable william, 16th 1918, 15th 1917, post facto., naval forces, moral certainty
Document Status: UGLY