v1221-667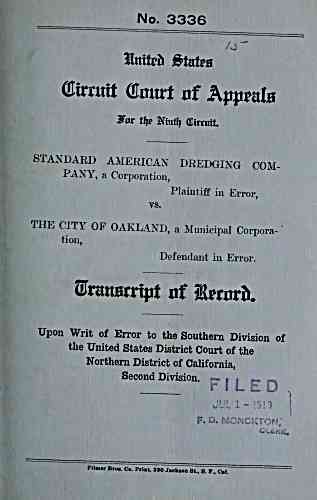 No. 3336
(Exttttit (Eamt of AppmU
JTor % mntlf (Etrrmt.
STANDARD AMERICAN DREDGING COM-
PANY, a Corporation,
Plaintife in Error,
vs.
THE CITY OF OAKLAND, a Municipal Corpora-
tion,
Defendant in Error.
Erumtrxpt of ittavh.
Upon Writ of Error to the Southern Division of
the United States District Court of the
Northern District of California,
Second Division. - , .., ...
Filmer Bros. Co. Print. 330 Jackson St.. S. F., Cal.
---
archive.org Volume Name: govuscourtsca9briefs1221
Volume: http://archive.org/stream/govuscourtsca9briefs1221
Document Link: http://archive.org/stream/govuscourtsca9briefs1221#page/n666/mode/1up
Top Keywords (auto-generated):
city, oakland, dredging, section, work, dredged, standard, district, american, slopes, contract, cubic, engineer, specified, area
Top Key Phrases (auto-generated):
standard american, american dredging, city engineer, cubic yards, northern district, public works, bottom width, specified area, cubic yard, schaertzer deputy, municipal corporation, municipal corpora, actual volume, low tide, irving wright
Document Status: UGLY