v1228-675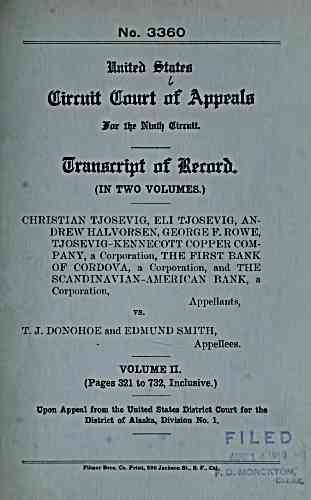 No. 3360
CUtrrmt Olourt of Apjrate
Qlrattarrfpf of Eworft.
(IN TWO VOLUMES.)
CHRISTIAN TJOSEVIG, ELI TJOSEVIG, AN-
DREW HALVORSEN, GEORGE F. ROWE,
TJOSEVIG-KENNECOTT COPPER COM-
PANY, a Corporation, THE FIRST BANK
OF CORDOVA, a Corporation, and THE
SCANDINAVIAN-AMERICAN BANK, a
Corporation,
Appellants,
vs.
DONOHOE and EDMUND SMITH,
Appellees.
VOLUME II.
(Pages 321 to 732, Inclusive.)
Upon Appeal from the United States District Court for the
District of Alaska, Division No. 1.
Filmer Bros. Co. Print, 330 Jackson St.. 8. F., Cal.
---
archive.org Volume Name: govuscourtsca9briefs1228
Volume: http://archive.org/stream/govuscourtsca9briefs1228
Document Link: http://archive.org/stream/govuscourtsca9briefs1228#page/n674/mode/1up
Top Keywords (auto-generated):
tjosevig, christian, claims, donohoe, smith, interest, work, edmund, alaska, andrew, property, mining, eli, halvorsen, bank
Top Key Phrases (auto-generated):
christian tjosevig, edmund smith., eli tjosevig, mining claims, andrew halvorsen, tjosevig eli, assessment work, christian tjosevig., kennecott copper, edmund smith, lode mining, tjose vig, tjosevig kennecott, andrew halverson, notary public
Document Status: UGLY