v1229-5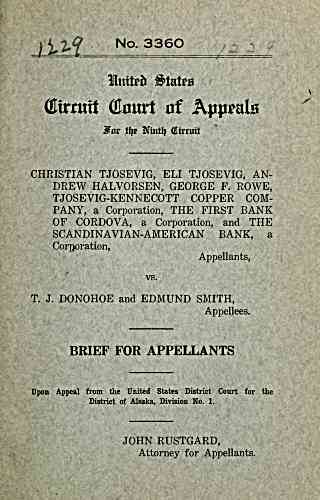 j2.^ No. 3360
CUtrrmt Olourt of Appala
Jor tlp Nintlj CHirnttt
CHRISTIAN TJOSEVIG, ELI TJOSEVIG, AN-
DREW HALVORSEN, GEORGE F. ROWE,
TJOSEVIG-KENNECOTT COPPER COM-
PANY, a Corporation, THE FIRST BANK
OF CORDOVA, a Corporation, and THE
SCANDINAVIAN-AMERICAN BANK, a
Corporation,
Appellants,
vs.
DONOHOE and EDMUND SMITH,
Appellees.
BRIEF FOR APPELLANTS
Upon Appeal from the United States District Court for the
District of Alaska, Division No. 1.
JOHN RUSTGARD,
Attorney for Appellants.
^
---
archive.org Volume Name: govuscourtsca9briefs1229
Volume: http://archive.org/stream/govuscourtsca9briefs1229
Document Link: http://archive.org/stream/govuscourtsca9briefs1229#page/n4/mode/1up
Top Keywords (auto-generated):
deed, tjosevig, interest, title, claims, grantee, interests, consideration, quitclaim, christian, paid, property, contract, 1916, option
Top Key Phrases (auto-generated):
christian tjosevig, quitclaim deed, kennecott copper, tjosevig kennecott, eli tjosevig, bona fide, tjose vig, june 6th., fide purchaser, nils tjosevig, andrew halvorsen, warranty deed, holman ekemo, 48 interest, mining claims
Document Status: UGLY