v1251-957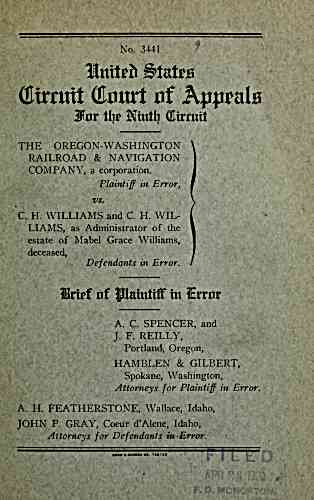 No. 3441 '
(Utrrmt OInurt of Ajpala
THE OREGON-WASHINGTON
RAILROAD & NAVIGATION
COMPANY, a corporation.
Plaintiff in Error,
vs.
WILLIAMS and C. H. WIL-
LIAMS, as Administrator of the
estate of Mabel Grace Williams,
deceased,
Defendants in Error.
Irtrf nf Jplatnttff in Srror
SPENCER, and

REILLY,
Portland, Oregon,
HAMBLEN & GILBERT,
Spokane, Washington,
Attorneys for Plaintiff in Error.
FEATHERSTONE, Wallace, Idaho,
JOHN P. GRAY, Coeur d'Alene, Idaho,
Attorneys for Defendants in Error.
HAW BOROIN 00. 1 86743
---
archive.org Volume Name: govuscourtsca9briefs1251
Volume: http://archive.org/stream/govuscourtsca9briefs1251
Document Link: http://archive.org/stream/govuscourtsca9briefs1251#page/n956/mode/1up
Top Keywords (auto-generated):
railroad, damages, land, flood, damage, water, williams, river, permanent, cataldo, dam, valley, bridge, channel, high
Top Key Phrases (auto-generated):
high water, williams land, sheer dam, alene river, pile approach, overflow channel, williams land., wil liams, flood waters, requested instruction, recover damages, railroad track, permanent structure, entire valley, railroad embankment
Document Status: UGLY