v1254-107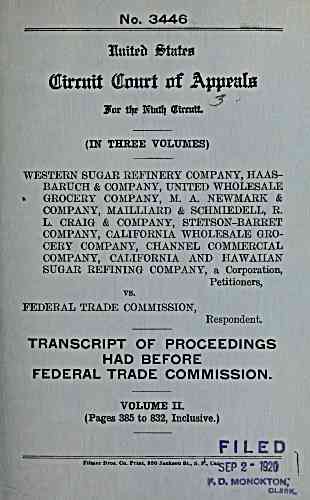 No. 3446
llttiteb Btnttis
' *' ""
dtrttttt (Ennxt of AppmU
(IN THREE VOLUMES)
WESTERN SUGAR REFINERY COMPANY, HAAS-
BARUCH & COMPANY, UNITED WHOLESALE
V GROCERY COMPANY, M. A. NEWMARK &
COMPANY, MAILLIARD & SCHMIEDELL, R.
CRAIG & COMPANY, STETSON-BARRET
COMPANY, CALIFORNIA WHOLESALE GRO-
CERY COMPANY, CHANNEL COMMERCIAL
COMPANY, CALIFORNIA AND HAWAIIAN
SUGAR REFINING COMPANY, a Corporation,
Petitioners,
vs.
FEDERAL TRADE COMMISSION,
Respondent.
TRANSCRIPT OF PROCEEDINGS
HAD BEFORE
FEDERAL TRADE COMMISSION.
VOLUME II.
(Pages 385 to 832, Inclusive.)
FILED
Filruer Bros. Co. Print, 830 Jackson St., 5. F., Ca
., S. ^.,
'SEP 2 1920
momokton;
---
archive.org Volume Name: govuscourtsca9briefs1254
Volume: http://archive.org/stream/govuscourtsca9briefs1254
Document Link: http://archive.org/stream/govuscourtsca9briefs1254#page/n106/mode/1up
Top Keywords (auto-generated):
los, exam, angeles, grocery, steinhauer, shurtleff, walker, burdeau, flavel, trade, commission, business, sugar, federal, 1918
Top Key Phrases (auto-generated):
los angeles, angeles grocery, federal trade, flavel shurtleff., trade commission., western sugar, sugar refinery, retail grocers, southern california, california retail, grocers association, geles grocery, 88 progress, gro cery, january 1st
Document Status: UGLY