v1292-329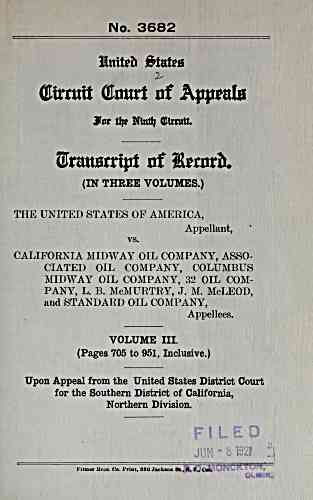 No. 3682
(Etrmit (Hmvt of KpptnU
(IN THREE VOLUMES.)
THE UNITED STATES OF AMERICA,
Appellant,
vs.
CALIFORNIA MIDWAY OIL COMPANY, ASSO-
CIATED OIL COMPANY, COLUMBUS
MIDWAY OIL COMPANY, 32 OIL COM-
PANY, L. B. McMURTRY, J. M. McLEOD,
and STANDARD OIL COMPANY,
Appellees,
VOLUME III.
(Pages 705 to 951, Inclusive.)
Upon Appeal from the United States District Court
for the Southern District of California,
Northern Division.
FILED
.liiM - b 1921
Kiimer Bros. Co. Print, 830 Jackgoa St.,. 8, F., 01.
---
archive.org Volume Name: govuscourtsca9briefs1292
Volume: http://archive.org/stream/govuscourtsca9briefs1292
Document Link: http://archive.org/stream/govuscourtsca9briefs1292#page/n328/mode/1up
Top Keywords (auto-generated):
oil, mcmurtry, lands, california, midway, 1909, 32, land, locators, mcleod, section, locations, 31, 23, january
Top Key Phrases (auto-generated):
midway oil, california midway, oil lands, pacific oil, associated oil, section 32, columbus midway, kern county, york locators, mc murtry, location notices, san benito, mc leod, placer mining, county california
Document Status: UGLY