v1301-195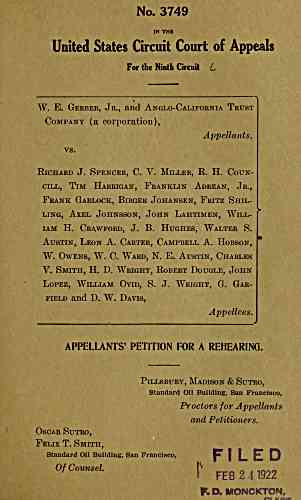 No. 3749
IN THE
United States Circuit Court of Appeals
For the Ninth Circuit L
Gerber, Jr., and Anglo-California Trust
Company (a corporation),
Appellants,
vs.
EiCHARD J. Spencer, C. V. Miller, R. H. Coun-
ciLL, Tim Harrigan, Franklin Adrean, Jr.,
Frank Garlock, Birger Johansen, Fritz Shil-
ling, Axel Johnsson, John Lahtimen, Will-
iam H. Crawford, J. B. Hughes, Walter S.
Austin, Leon A. Carter, Campbell A. Hobson,
Owens, W. C. Ward, N. E. Austin, Charles

Smith, H. D. Wright, Robert Dougle, John
Lopez, William Ovid, S. J. Wright, G. Gar-
field and D. W. Davis,
Appellees.
APPELLANTS' PETITION FOR A REHEARING.
Pillsbury, Madison & Sutro,
standard Oil Building, San Francisco,
Proctors for Appellants
and Petitioners.
Oscar Sutro,
Felix T. Smith,
standard Oil Building, San Francisco, P" I p IJ
Of Counsel. r /^ . ^/*/i^
I FEB 2 4 1922
r- D. MONCKTON,
ryt oats'
---
archive.org Volume Name: govuscourtsca9briefs1301
Volume: http://archive.org/stream/govuscourtsca9briefs1301
Document Link: http://archive.org/stream/govuscourtsca9briefs1301#page/n194/mode/1up
Top Keywords (auto-generated):
penalty, wages, rehearing, gerber, smith, wright, tendered, san, petitioners, petition, libelants, john, francisco, austin, william
Top Key Phrases (auto-generated):
san francisco, wright robert, william ovid, tim harrigan, sutro felix, standard oil, shil ling, robert dougle, pillsbury madison, oscar sutro, oil building, march 15th, lopez william, ling axel, lants supplemental
Document Status: UGLY