v1303-201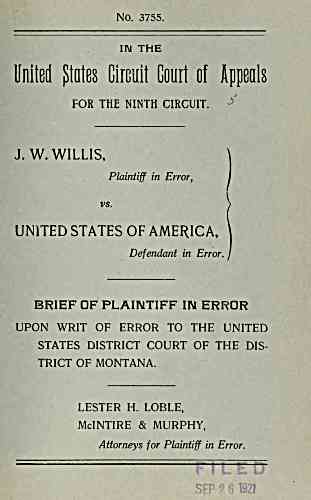 No. 3755.
IN THE
Ifniteil states Gireuit Court of Appeals
FOR THE NINTH CIRCUIT. -'''
J.W.WILLIS,
Plaintiff in Error,
vs.
UNITED STATES OF AMERICA,
Defendant in Error.
BRIEF OF PLAINTIFF IN ERROR
UPON WRIT OF ERROR TO THE UNITED
STATES DISTRICT COURT OF THE DIS-
TRICT OF MONTANA.
LESTER H. LOBLE,
McINTIRE & MURPHY,
Attorneys for Plaintiff in Error.
t'^ ^tffJK Wt^
sFp 9 6 m
---
archive.org Volume Name: govuscourtsca9briefs1303
Volume: http://archive.org/stream/govuscourtsca9briefs1303
Document Link: http://archive.org/stream/govuscourtsca9briefs1303#page/n200/mode/1up
Top Keywords (auto-generated):
starr, erred, volstead, instruction, smith, willis, guilty, duty, violated, trans, properly, fictitious, rendering, instructions, agent
Top Key Phrases (auto-generated):
national prohibition, entering judg, vol stead, ver dict, plausible excuse, loble mcintire, lizzie drake, lightest word, highly prejudicial, guilty trans, floyd wilson, famous volstead, chief executive, 614 626, wt sfp
Document Status: UGLY