v1303-59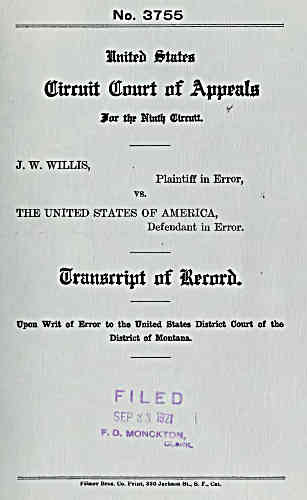 No. 3755
(Bvctmt (Utrntt 0f ^ppmU
J. W. WILLIS,
Plaintiff in Error,
vs.
THE' UNITED STATES OF AMERICA,
Defendant in Error.
UvmBtfvpi 0f IJwnrJi.
Upon Writ of Error to the United States District Court of the
District of Montana.
FILED
SEi- .. .j2? i
F. D. MONCKTON,
Filnier Bros. Co. Print, 330 Jtckaoa Bt., S. F.. 0l.
---
archive.org Volume Name: govuscourtsca9briefs1303
Volume: http://archive.org/stream/govuscourtsca9briefs1303
Document Link: http://archive.org/stream/govuscourtsca9briefs1303#page/n58/mode/1up
Top Keywords (auto-generated):
willis, whiskey, house, murphy, slattery, bottle, march, gordon, henderson, drink, room, district, bottles, city, montana
Top Key Phrases (auto-generated):
miles city, green river, front room., front room, miles city., vic smith, defend ant, willis house, empty bottles, river whiskey, frank hunter, paul drinkert., pacific avenue, moonshine whiskey, eleven pacific
Document Status: UGLY