v1305-329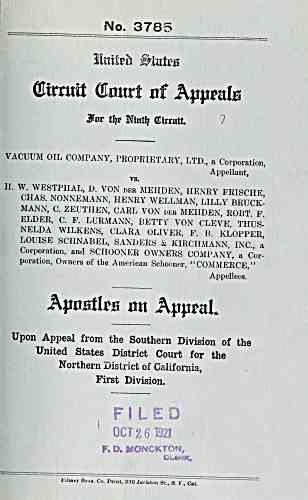 No. 3785
MnxUh B'Mm
(Eittnit (Hamt at AppmlB
VACUUM OIL COMPANY, PROPRIETARY, LTD., a Corporation,
Appellant,
vs.
II. W. WESTPHAL, D. VON der MEHDEN, HENRY FRISCHE
CHAS. NONNEMANN, HENRY WELLMAN, LILLY BRUCk'
MANN, C. ZEUTHEN, CARL VON der MEHDEN ROBT F
ELDER, C. F. LURMANN, BETTr VON CLEVE THUS
NELDA WILKENS, CLARA OLIVER, F B KLOPPER
LOUISE SCHNABEL, SANDERS & KIRCHMANN INC a
Corporation, and SCHOONER OWNERS COMPANY, a Cor-
poration, Owners of the American Schooner, ''COMMERCE,"
Appellees.
Apo0tIH an Appml
Upon Appeal from the Southern Division of the
United States District Court for the
Northern District of California,
First Division.
F( LED
OCT 2 6 1921
MONCKTON,
Kilmer Bio*. Co. Print, 330 Jackson St.. S. K., Cal.
---
archive.org Volume Name: govuscourtsca9briefs1305
Volume: http://archive.org/stream/govuscourtsca9briefs1305
Document Link: http://archive.org/stream/govuscourtsca9briefs1305#page/n328/mode/1up
Top Keywords (auto-generated):
oil, charter, vacuum, kirchmann, sutro, cargo, ltd, san, mcclanahan, commerce, 1919, blumer, vessel, proprietary, respondent
Top Key Phrases (auto-generated):
vacuum oil, proprietary ltd., standard oil, san francisco, sanders kirchmann, henry kirchmann, kirchmann inc., schooner commerce, san mateo, northern district, ascertained therefrom, von der, non union, loading berth, mateo realty
Document Status: UGLY