v1306-873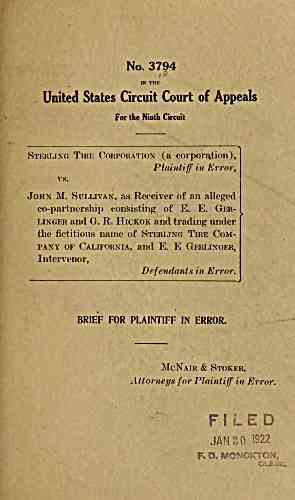 No. 3794
United States Circuit Court of Appeals
For the Ninth Circuit
Sterling Tire Corporation (a corporation),
Plaintiff in Error,
vs.
John M. Sullivan, as Receiver of an alleged
co-partnership consisting of E. E. Ger- I
LINGER and Gr. R. HiCKOK and trading under
the fictitious name of Sterling Tire Com-
pany OF California, and E. E Gerlinger,
Intervenor,
Defendants in Error.
BRIEF FOR PLAINTIFF IN ERROR.
McNair & Stoker,
Attorneys for Plaintiff in Error.
FILED
JAN 2 1922
MOJCKTOS,
OLS-SK.
---
archive.org Volume Name: govuscourtsca9briefs1306
Volume: http://archive.org/stream/govuscourtsca9briefs1306
Document Link: http://archive.org/stream/govuscourtsca9briefs1306#page/n872/mode/1up
Top Keywords (auto-generated):
property, receiver, possession, right, replevin, jurisdiction, expenses, mortgage, gerlinger, 1920, hickok, damages, ceiver, federal, 1921
Top Key Phrases (auto-generated):
sterling tire, prop erty, mortgage bondholders, posses sion, property replevined, whose instance, receiver seized, pro ceedings, pos session, ger linger, tire corporation, san francisco, receiver ship, proposed contract, property seized
Document Status: UGLY