v1326-355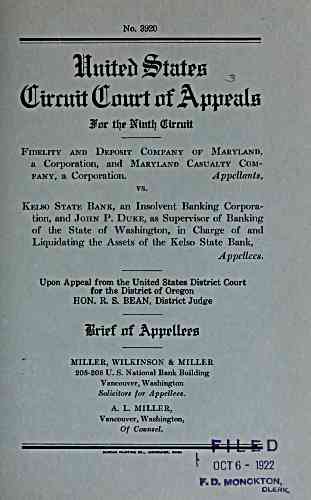 No. 3920
Ctrrmt Qlnurt of Appla
Jor tljp Nmtlj Oltrrtttt
Fidelity and Deposit Company of Maryland,
a Corporation, and Maryland Casualty Com-
pany, a Corporation. Appellants,
vs.
Kelso State Bank, an Insolvent Banking Corpora-
tion, and John P. Duke, as Supervisor of Banking
of the State of Washington, in Charge of and
Liquidating the Assets of the Kelso State Bank,
Appellees.
Upon Appeal from the United States District Court
for the District of Oregon
HON. R. S. BEAN, District Judge
Irtrf 0f KpptlktB
MILLER, WILKINSON & MILLER
205-208 U. S. National Bank Building
Vancouver, Washington
Solicitors for Appellees.
MILLER,
Vancouver, Washington,
Of Counsel.
OUNtMII PKINTIN* OO., VANOOUVIM, WAMt
D
OCT 6- 1922
r.DwMONCKTON,
QLK.
---
archive.org Volume Name: govuscourtsca9briefs1326
Volume: http://archive.org/stream/govuscourtsca9briefs1326
Document Link: http://archive.org/stream/govuscourtsca9briefs1326#page/n354/mode/1up
Top Keywords (auto-generated):
bank, treasurer, insolvent, warrants, kelso, deposit, deposits, county, funds, money, hopelessly, officers, right, property, paid
Top Key Phrases (auto-generated):
kelso bank, hopelessly insolvent, county treasurer, portland bank, national bank, hopelessly insolvent., cowlitz county, war rants, trust fund, county funds, money deposited, march 1921, liquidating officer, vancouver washington, trust funds
Document Status: UGLY