v1326-453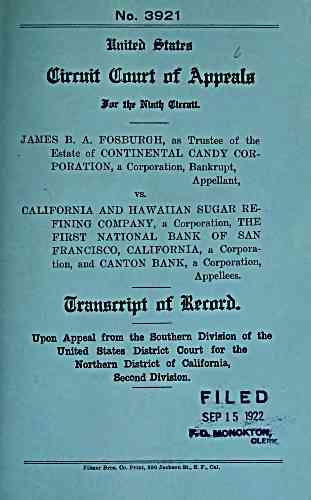 No. 3921
trrtttt (Hmtt nf Apprala
JAMES B. A. FOSBUEGH, as Trustee of the
Estate of CONTINENTAL CANDY COR-
PORATION, a Corporation, Bankrupt,
Appellant,
vs.
CALIFORNIA AND HAWAIIAN SUGAR RE-
FINING COMPANY, a Corporation, THE
FIRST NATIONAL BANK OF SAN
FRANCISCO, CALIFORNIA, a Corpora-
tion, and CANTON BANK, a Corporation,
Appellees.
rauHtrtpt of UworiJ.
Upon Appeal from the Southern Division of the
United States District Court for the
Northern District of California,
Second Division.
FUED
SEP 15 1922
OLERK-
Filmer Bros. Co. Print, 330 Jackson St., S. F., Cal.
---
archive.org Volume Name: govuscourtsca9briefs1326
Volume: http://archive.org/stream/govuscourtsca9briefs1326
Document Link: http://archive.org/stream/govuscourtsca9briefs1326#page/n452/mode/1up
Top Keywords (auto-generated):
sugar, california, 1920, refining, bank, hawaiian, contracts, contract, credit, san, francisco, chicago, national, james, corporation
Top Key Phrases (auto-generated):
sugar refining, hawaiian sugar, san francisco, national bank, california hawaiian, continental candy, lakes trust, canton bank, candy corporation, fair price, francisco california, illegal null, special master, food administration, anti trust
Document Status: UGLY