v1336-989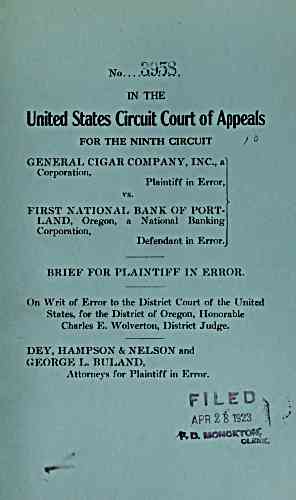 IN THE
United States Circuit Court of Appeals
FOR THE NINTH CIRCUIT /
GENERAL CIGAR COMPANY, INC., a
Corporation,
Plaintiff in Error,
vs.
FIRST NATIONAL BANK OF PORT-
LAND, Oregon, a National Banking
Corporation,
Defendant in Error.
BRIEF FOR PLAINTIFF IN ERROR.
On Writ of Error to the District Court of the United
States, for the District of Oregon, Honorable
Charles E. Wolverton, District Judge.
DEY, HAMPSON & NELSON and
GEORGE L. BULAND,
Attorneys for Plaintiff in Error.
I iu- i3U -*^
APR 2 192-5 ;:^
---
archive.org Volume Name: govuscourtsca9briefs1336
Volume: http://archive.org/stream/govuscourtsca9briefs1336
Document Link: http://archive.org/stream/govuscourtsca9briefs1336#page/n988/mode/1up
Top Keywords (auto-generated):
bank, checks, turrell, burden, authority, statements, national, vouchers, drawee, depositor, agent, banks, loss, instruction, fraud
Top Key Phrases (auto-generated):
national bank, drawee banks, drawee bank, checks cashed, checks drawn, statements rendered, portland ore., monthly statements, building portland, pass book, ac counts, union national, rubber stamp, portland branch, defend ant
Document Status: UGLY