v1339-331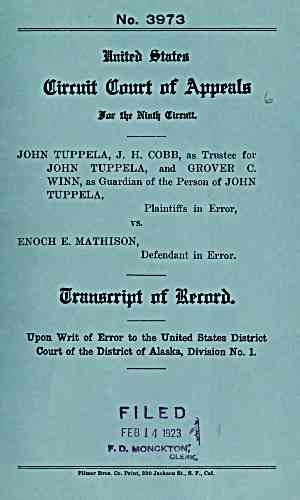 No. 3973
Cdtrnnt Qlmxt nf Kppmlji
Up
JOHN TUPPELA, J. H. COBB, as Trustee for
JOHN TUPPELA, and GROVER C.
WINN, as Guardian of the Person of JOHN
TUPPELA,
Plaintiffs in Error,
vs.
ENOCH E. MATHISON,
Defendant in Error.
rattBirtpt of Wnavh.
Upon Writ of Error to the United States District
Court of the District of Alaska, Division No. 1.
FILED
FEB 1 4 1923 4
moncktom;
Filmer Bros. Oo. Print, 330 Jackson St., S. F., Cal.
---
archive.org Volume Name: govuscourtsca9briefs1339
Volume: http://archive.org/stream/govuscourtsca9briefs1339
Document Link: http://archive.org/stream/govuscourtsca9briefs1339#page/n330/mode/1up
Top Keywords (auto-generated):
tuppela, john, mathison, cobb, contract, enoch, alaska, mining, robertson, claims, district, interest, 1918, chichagoff, winn
Top Key Phrases (auto-generated):
john tuppela, chichagoff mining, lode mining, tup pela, mining claims, rising sun, pacific lode, march 1918, notary public, john tuppela., astoria oregon, sun lode, lauri moilanen., juneau alaska, evi dence
Document Status: UGLY