v1345-1019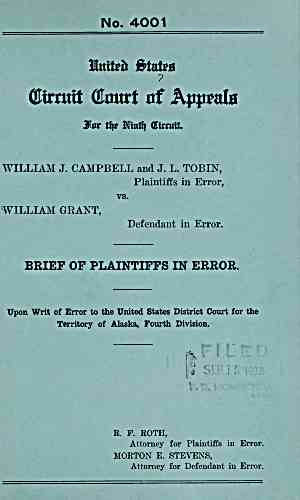 No. 4001
Mnitsh ^tatea
CUtrrtttt (Uottrt of Kppmla
Jor tly? Nuttlj trnitt
WILLIAM J. CAMPBELL and J. L. TOBIN,
Plaintiffs in Error,
vs.
WILLIAM GRANT,
Defendant in Error.
BRIEF OF PLAINTIFFS IN ERROR.
Upon. Writ of Error to the United States District Corni; for the
Territory of Alaska, Fourth Division.
ROTH,
Attorney for Plaintiffs in Error.
MORTON E. STEVENS,
Attorney for Defendant in Error.
---
archive.org Volume Name: govuscourtsca9briefs1345
Volume: http://archive.org/stream/govuscourtsca9briefs1345
Document Link: http://archive.org/stream/govuscourtsca9briefs1345#page/n1018/mode/1up
Top Keywords (auto-generated):
placer, lode, location, discovery, patent, claimant, quigley, valid, grant, mining, boundaries, assignment, trans, right, instruction
Top Key Phrases (auto-generated):
placer claimant, placer mining, top lode, superficial area, placer location, william grant, valid placer, unknown lode, lode claims, bench placer, valid lode, placer patent, patent applied, exterior boundaries, public domain
Document Status: UGLY