v1399-459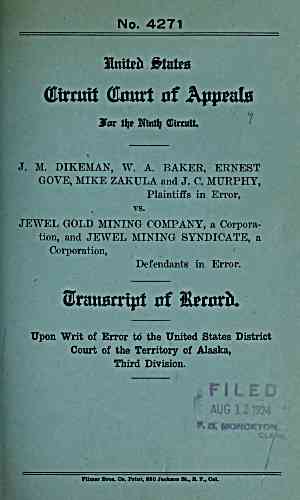 No. 4271
(Hvctmt (Hmxt ttf KpptuU
War tli? Nttttlj (HlxtvXL
DIKEMAN, W. A. BAKER, ERNEST
GOVE, MIKE ZAKULA and J. C. MURPHY,
Plaintiffs in Error,
vs.
JEWEL GOLD MINING COMPANY, a Corpora-
tion, and JEWEL MINING SYNDICATE, a
Corporation,
Defendants in Error.
rttttampt Bf Uworb.
Upon Writ of Error to the United States District
Court of the Territory of Alaska,
Third Division.
?- dl MONCICT
Filmer Bros. Oo. Print, 880 Jackson St., S. F., Oal.
---
archive.org Volume Name: govuscourtsca9briefs1399
Volume: http://archive.org/stream/govuscourtsca9briefs1399
Document Link: http://archive.org/stream/govuscourtsca9briefs1399#page/n458/mode/1up
Top Keywords (auto-generated):
jewel, mining, alaska, property, gold, 1923, territory, dikeman, 1924, interest, marshal, execution, anchorage, district, paid
Top Key Phrases (auto-generated):
jewel gold, gold mining, jewel mining, mining syndicate, anchorage alaska, ernest gove, mike zakula, december 1922, arthur frame, mining claims, interest thereon, baker ernest, san francisco, gove mike, ton standard
Document Status: UGLY